Is gutter damage included in roof insurance?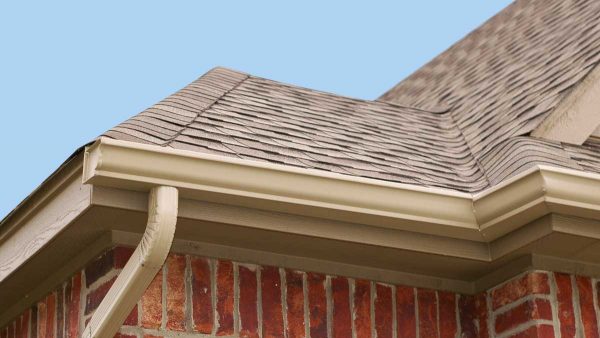 Your roof got damaged in a hailstorm, and you're getting it repaired or replaced. But the roof wasn't the only thing that got damaged. Your gutters are now covered in dents and divots. Can you get new gutters with a new roof? Will your homeowners insurance cover gutter replacement?
It all comes down to your policy and the type of damage your gutters incurred.
Cosmetic damage vs. functional damage
Many homeowners insurance policies will cover functional gutter damage. If high winds or falling debris knocked some or all of your gutters off your home, the repair/replacement should be covered under your policy.
Cosmetic damage is not always covered. If your gutters are dented but still work properly, your policy may not cover new gutters with your roof repair. These cosmetic blemishes, also known as metal marring, may be categorized as wear and tear. Even if the blemishes came from a storm or other covered event, the visual damage may not be included in the policy.
Exclusions for poor maintenance or negligence
It's also important to note that most insurance plans will not cover damage resulting from improper maintenance. For example, if your gutters are clogged, the water running off your roof cannot flow through the desired drainage path. Instead, the water may pool at the top of your gutters, damaging your roofing and trim. The weight from the gutter debris could cause the gutters to bow or pull away from the roofing.
Those damages would not be covered because the gutters were not properly maintained.
How to find out if gutters are included in your policy
The best way to find out if your gutter damage is covered is to have a policy review with your insurance agent. We recommend doing this every time your homeowners insurance comes up for renewal, especially if it auto-renews. Your policy can change at every renewal period, so a feature that was once covered on your policy may no longer be included. You need to be prepared for the out-of-pocket expenses, or you may need a policy with better coverage options.
When the time comes to file your roof damage insurance claim, Land Enterprises Roofing makes it easy. We handle the behind-the-scenes work, from the initial roof inspection to working with your insurance adjuster. You can count on our quality craftsmanship and 30+ years of experience.
Get in touch to get started on your roof today. We are happy to answer any of your questions. Feel free to schedule your free roof inspection as well.