Concerned about dishonest roofing companies? Stressed out about the insurance claim process?
We pride ourselves on being an Oklahoma roofing company you can trust. We don't have door-to-door sales, and payment isn't due until the work is done. Financing options are available.
We keep every job site safe and free of debris, and no project is complete until we do a final cleaning and inspection to ensure your new roof fits our high quality standards.

Here's an overview of our process:
STEP 1:
Call us before you call your insurance company
Did you know that calling your insurance company about potential storm damage can count as a claim and may cause your premiums to increase? Before you call your insurance agent after a hail storm, call us. We'll give you an honest opinion on whether or not you need to file an insurance claim. If you do, we'll help you through it.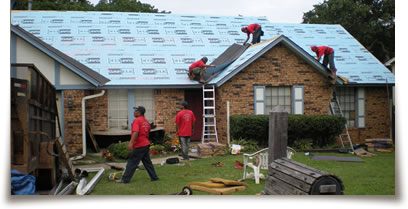 STEP 2:
Talk about your preferences
If a claim is needed, you may have some options to customize the look of your new roof. We'll talk about things like shingle colors and types, options for guttering, exterior paint colors, and any other elements involved in your claim. We'll also talk about roof ventilation, which can impact both the energy efficiency of your home and the life of your roof.
STEP 3:
Meet with the adjuster for an inspection
After the shingles have been removed the team replaces any damaged decking. Next, they put an ice and water shield underlayment on eaves, valleys and cover the rest of the decking with a high quality felt or synthetic felt. Then they begin nailing the shingles. Thanks to improvements in nail gun technology, we are able to use nail guns to attach each shingle with 6 nails which also provides your home with a 130 mph wind warranty.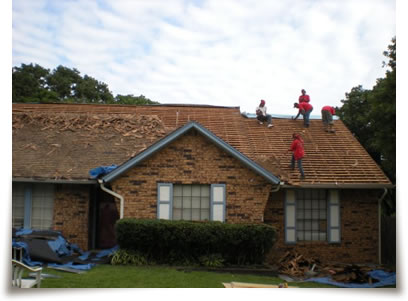 STEP 4:
File the insurance claim
After meeting with the adjustor, we'll give you a thorough explanation of what your insurance will cover and what items we may need to add to the claim later. Then it's time for you to officially file the claim and receive the initial payment from the insurance company. The process varies a little bit from one insurance company to another, but we're happy to help guide you through the process and complete any necessary paperwork.
STEP 5:
Materials are delivered
Roofing materials will be delivered to your home before we start the job. Our project manager will call to let you know when to expect delivery.
Step 6:
Property prep and tear off
Our project manager and roofing crew will start the day by protecting your garage door, air conditioner, pool, and other items to ensure their safety during the tear off process. After everything is safely covered, the team will begin tearing off the old roof in sections. We never tear off more than we can re-roof in a single day, which protects your home from any sudden storms that may occur overnight.
STEP 7:
Decking, ice and water shield, and shingles
Once the old shingles have been removed, the crew replaces any damaged decking to ensure a solid foundation for your new roof. Then we place an ice and water shield underlayment on the eaves and valleys and cover the rest of the decking with felt. Then it's time for shingles. We nail every shingle to ensure the shingles stay on the roof even during strong winds. Thanks to improvements in nail gun technology, we are able to safely and quickly install each roofing system layer with speed and confidence.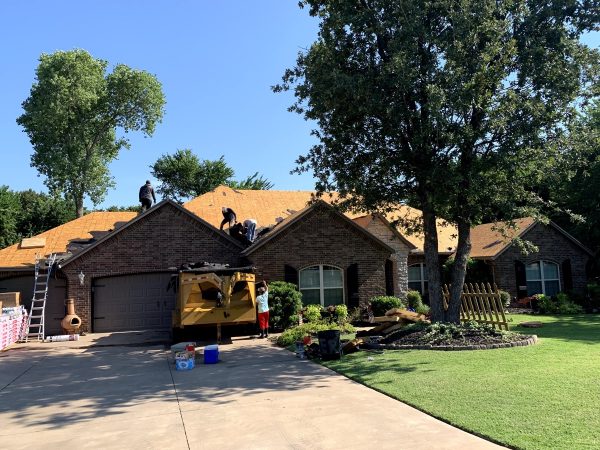 Step 8:
Roofing cleanup and inspection
After the roof is complete, the team cleans your yard of any debris from the job. Our project manager will inspect your property to ensure everything is clean, and he will also inspect your home's gas vent pipes to ensure they weren't disturbed during the roofing process. This inspection helps keep your family safe.
Step 9:
Additional items on the insurance claim
If your claim includes gutters, fencing, or anything else beyond the roof, that work will be completed after the new roof is installed. As with every other step of the process, our project manager will keep you updated on the timeline and when you can expect additional aspects of the work to be completed.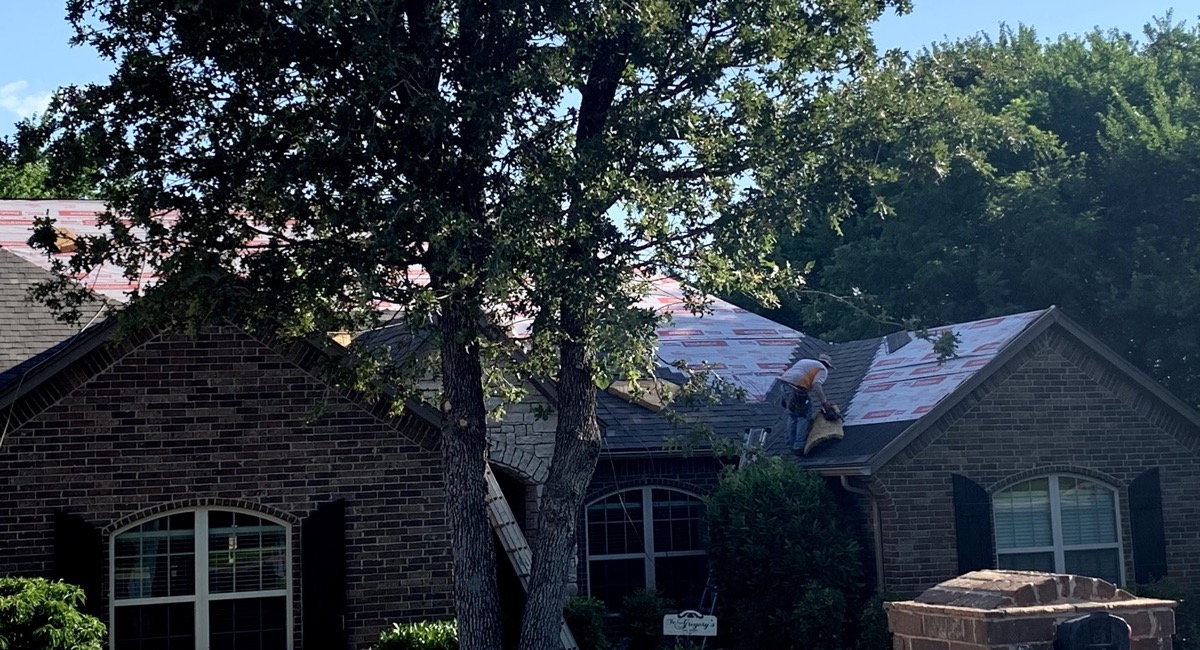 Step 10:
Final invoice to insurance
Once the work is completed, we'll send your insurance company a final invoice for the job, which will include any additional items authorized on the claim once work began. In most cases, the insurance company sends you as the homeowner the final check, and then you pay us for the job. We will ask for a first payment (financing options available) or to pay for the entire roof when the roof is complete. In an insurance case, this usually means the first check you receive from your insurance company. All payment is due when the entire project is completed.

But what if you're not filing an insurance claim?
We sometimes work with customers who aren't filing an insurance claim for their roofing project. In that case, we create an estimate for you and sit down and go over the details. You'll know exactly what we'll be doing and what it will cost. If you want to change anything, we'll revise the estimate and then sign the agreement. Once the roof is complete, payment is due in full.
Get in touch to get started on your roof today. We are happy to answer any of your questions. Feel free to schedule your free roof inspection as well.